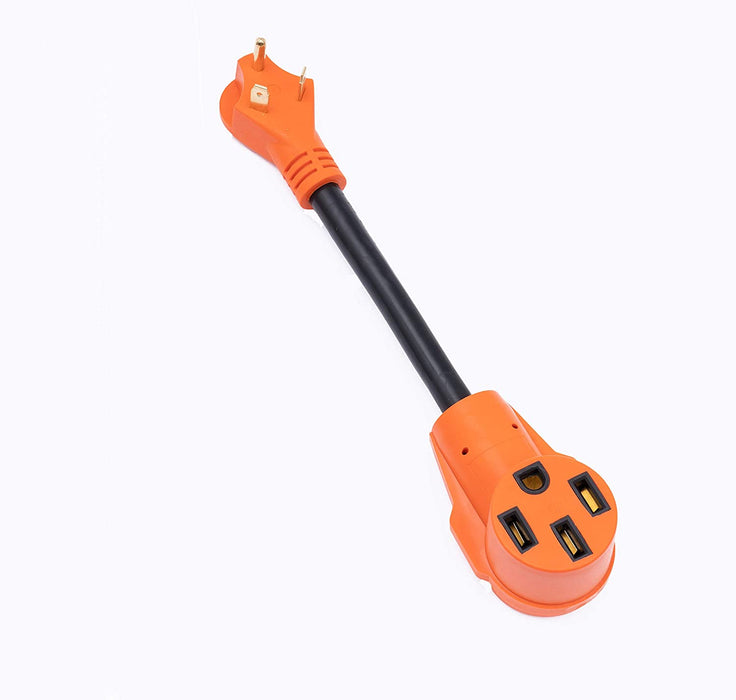 Hebron RV Power Converter - 30 Amp Male to 50 Amp Female Dogbone Adapter
Hebron RV Power Converter - 30 Amp Male to 50 Amp Female Dogbone Adapter

The Hebron dogbone adapter has a clean and sleek design, which makes it easier to plug in and unplug without causing damage. The adapter is rated for 125 V / 3750 Watts. It is made of 100% copper with a PVC sheath that is fire retardant. This cord is durable and long lasting. It enables you to connect the amperage of your RV to the power pedestal at the campground as stated in the conversion specs of this unit.  
Features:

Power Converter: Be sure you can plug in your motorhome or RV camper at any motor park, camp ground or recreational area.
Dogbone Adapter: The electrical power adapter is a safe converter from 30 AMP Male (TT-30P) to 50 AMP Female (14-50R), and is rated 125V/3750W.
Weather Resistant: The STW electrical cord is finished with a thick, durable coating, making the power adaptors ideal for long-term use in both hot and cold conditions.
Easy to Use: Substantial plugs on both ends allow for a strong and comfortable grip when attaching or removing the charger adapter cord.
Practical Design: Strong and flexible, the black and orange RV power converter measures 12" long and weighs 1lb, with a flexible dog bone design.
Coverts Electrical Connection Type: Adapts the electric connection of the campground to your RV's amperage.
Flexible Design: The cord is very flexible. It is made of flame retardant heavy duty PVC sheath to protect it from wear and tear.
High Performance: Made from 100% copper wires for optimum conductivity. Rated for 125 Volts/ 3750 Watts.